Canadian wrestlers ready to battle on home soil for Olympic qualification
March 11, 2020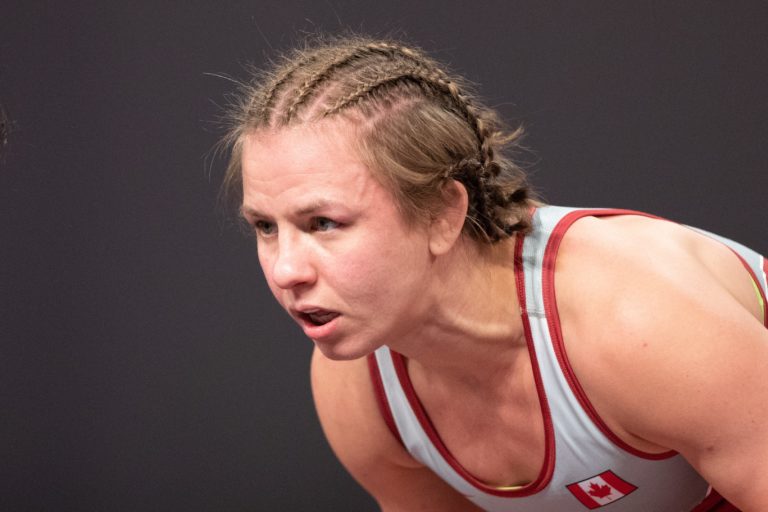 OTTAWA – Sixteen Canadian wrestlers are hoping to achieve their Olympic dreams when they step on the mats at the Pan-American Olympic Qualification Tournament in Ottawa.
The top-two wrestlers in each Olympic weight-class will secure one quota spot for their nation for the Tokyo 2020 Olympic Games.
"I can't think of a better place in the country to try and secure a spot on Team Canada than at home in Ottawa," said reining Olympic Champion Erica Wiebe. "Wrestling has strong roots in Ottawa and it was where it all started for me. It'll be exciting to compete at home with my home club (National Capital Wrestling Club) supporting in the crowd and volunteering to make this event a success."
Wiebe will be wrestling in the 76 kg weight-class. The 30-year-old is also a 2018 World Championship bronze medallist.
"The team has worked hard to prepare for this event, and we are all ready to put on a great show for the nation's capital city."
Rio 2016 Olympians Danielle Lappage and Michelle Fazzari will also be looking to return to the Olympic stage.
Lappage, of Olds, Alta., will wrestle at 68 kg. The 2018 World Championship silver medallist will face-off with Cuba's Yudari Sanchez Rodriguez who has captured three age-group World Championship medals: 2018 U23 gold, 2017 Junior silver and 2017 U23 bronze, as well as 2020 Pan Am champion Yanet Ursula Sovero Nino of Peru.
Fazzari will be returning for her first major international event since the 2018 Commonwealth Games, where she injured her knee in the 62 kg gold medal final. The injury required surgery on her LCL, ACL, and PCL. The 32-year-old returned to the mats in time for the Canadian Wrestling Trials, where she won her spot back onto Team Canada.
Reigning World champion Linda Morais will have her sights set on qualifying for her first Olympic Games. Her 57 kg weight-class will likely feature 2016 Olympic Champion Helen Maroulis of USA, who took the 2019 season off. The 2019 Pan Am Games champion Lissette Alexandra Antes Castillo of Ecuador and 2020 Pan-Am Championships bronze medallist Betzabeth Rebeca Sarco Colmenarez of Venezuela will also compete at 57 kg.
Tickets for the event are available here. The event will be webcasted by United World Wrestling, and CBC Olympics.
Freestyle
57kg
Bryan Lucas DE OLIVEIRA PEREIRA (BRA)
Ligrit SADIKU (CAN)
Oscar Eduardo TIGREROS URBANO (COL)
Reineri ANDREU ORTEGA (CUB)
Juan Rubelin RAMIREZ BELTRE (DOM)
Edwin Alexi SEGURA GUERRA (GUA)
Roberto ALEJANDRO BLANCO (MEX)
Thomas Patrick GILMAN (USA)
Pedro Jesus MEJIAS RODRIGUEZ (VEN)
65kg
Agustin Alejandro DESTRIBATS (ARG)
David Washington DOS SANTOS MOREIRA (BRA)
Dillon Emmanuel WILLIAMS (CAN)
Wber Euclides CUERO MUNOZ (COL)
Alejandro Enrique VALDES TOBIER (CUB)
Albaro RUDESINDO CAMACHO (DOM)
Mauricio Javier SANCHEZ SALTOS (ECU)
Brandon Disair DIAZ RAMIREZ (MEX)
Sixto Miguel AUCCAPINA PEDRAGAS (PER)
Jose Javier RODRIGUEZ COLON (PUR)
Zain Allen RETHERFORD (USA)
Wilfredo Aogusto RODRIGUEZ BOCANEY (VEN)
74kg
Jorge Ivan LLANO (ARG)
Ranico  Ikkesh HOWARD (BAR)
Marcus Vinicius CALASANS CAMARGO (BRA)
Jasmit Singh PHULKA (CAN)
Leon Juan Carlos PERALTA LANAS (CHI)
Nestor Joaquin TAFUR BARRIOS (COL)
Jeandry GARZON CABALLERO (CUB)
Julio Rafael RODRIGUEZ ROMERO (DOM)
Victor Eduardo HERNANDEZ LUNA (MEX)
Franklin GOMEZ MATOS (PUR)
Anthony Jose MONTERO CHIRINOS (VEN)
86kg
Ricardo Adrian BAEZ (ARG)
Reuben Leroy WILTSHIRE (BAR)
Clayton Steven PYE (CAN)
Yurieski TORREBLANCA QUERALTA (CUB)
Gino Tanislado AVILA DILBERT (HON)
Angus Patrick ARTHUR (JAM)
Noel Alfonso TORRES CHACON (MEX)
Pool Edinson AMBROCIO GREIFO (PER)
Ethan Adrian RAMOS (PUR)
David Morris TAYLOR III (USA)
Pedro Francisco CEBALLOS FUENTES (VEN)
97kg
Jordan STEEN (CAN)
Maxwell Lemar LACEY GARITA (CRC)
Reineris SALAS PEREZ (CUB)
Luis Miguel PEREZ SOSA (DOM)
Miguel Javier SANCHEZ GERALDO (MEX)
Evan Amadour RAMOS (PUR)
Jose Daniel DIAZ ROBERTTI (VEN)
125kg
Amarveer DHESI (CAN)
Oscar PINO HINDS (CUB)
Eduardo Maximiliano GARCIA BETANZOS (MEX)
Charles Zachary MERRILL (PUR)
Nicholas Edward GWIAZDOWSKI (USA)
Luis Felipe VIVENES URBANEJA (VEN)
Greco-Roman
60kg
Marat GARIPOV (BRA)
Adam Takahashi MACFADYEN (CAN)
Dicther Hans TORO CASTANEDA (COL)
Luis Alberto ORTA SANCHEZ (CUB)
Jancel Miguel PIMENTEL GONZALEZ (DOM)
Andres Roberto MONTANO ARROYO (ECU)
Emerson Isaias FELIPE ORDONEZ (GUA)
Samuel GURRIA VIGUERAS (MEX)
Joshua Xavier MEDINA (PUR)
Ildar HAFIZOV (USA)
Gustavo Jesus RODRIGUEZ MARTINEZ (VEN)
67kg
Joilson DE BRITO RAMOS JUNIOR (BRA)
Daniel Troy COLES (CAN)
Cristobal Alonso TORRES NUNEZ (CHI)
Julian Stiven HORTA ACEVEDO (COL)
Enyer Manuel FELICIANO (DOM)
Cristhian Alberto RIVAS CASTRO (ECU)
Manuel Alejandro LOPEZ SALCEDO (MEX)
Nilton Gonzalo Marcos SOTO GARCIA (PER)
German Manuel DIAZ MALDONADO (PUR)
Ellis E COLEMAN (USA)
Anthony Javier PALENCIA PUENTES (VEN)
77kg
Angelo Rafael MARQUES MOREIRA (BRA)
John YEATS (CAN)
Jair Alexis CUERO MUNOZ (COL)
Yosvanys PENA FLORES (CUB)
Jose Andres VARGAS RUEDA (MEX)
Marciano George ALI (PUR)
Patrick Harrison SMITH (USA)
Wuileixis de Jesus RIVAS ESPINOZA (VEN)
87kg
Ronisson BRANDAO SANTIAGO (BRA)
Ioannis NARLIDIS (CAN)
Carlos Andres MUNOZ JARAMILLO (COL)
Daniel GREGORICH HECHAVARRIA (CUB)
Carlos Alberto ADAMES PALMER (DOM)
Ariel Andres ALFONSO RODRIGUEZ (HON)
Lesyan Osvaldo COUSIN OTOMURO (JAM)
Daniel VICENTE GOMEZ (MEX)
Josef Patrick RAU (USA)
Luis Eduardo AVENDANO ROJAS (VEN)
97kg
Guilherme EVANGELISTA DIAS (BRA)
Thomas Rahontsiiosta BARREIRO (CAN)
Gabriel Alejandro ROSILLO KINDELAN (CUB)
Kevin MEJIA CASTILLO (HON)
Luis Gerardo RIVERA ALVARADO (MEX)
Tracy Gangelo HANCOCK (USA)
Luillys Jose PEREZ MORA (VEN)
130kg
Luciano DEL RIO (ARG)
Eduard SOGHOMONYAN (BRA)
Bradley Thomas HILDENBRANDT (CAN)
Yasmani ACOSTA FERNANDEZ (CHI)
Leo Dalis SANTANA HEREDIA (DOM)
Luis Alberto ROMAN BARRIOS (MEX)
Adam Jacob COON (USA)
Moises Salvador PEREZ HELLBURG (VEN)
Women's Wrestling
50kg
Patricia Alejandra BERMUDEZ (ARG)
Kamila BARBOSA VITO DA SILVA (BRA)
Jessica Anne Marie MACDONALD (CAN)
Carolina CASTILLO HIDALGO (COL)
Yusneylis GUZMAN LOPEZ (CUB)
Jacqueline Del Rocio MOLLOCANA ELENO (ECU)
Rita Fatima ROJAS CHAVEZ (MEX)
Thalia Jihann MALLQUI PECHE (PER)
Sarah Ann HILDEBRANDT (USA)
Genesis Rosmary MILANO OLIVIO (VEN)
53kg
Samantha Leigh STEWART (CAN)
Luisa Elizabeth VALVERDE MELENDRES (ECU)
Zeltzin HERNANDEZ GUERRA (MEX)
Gabriela Nicole RAMOS DIAZ (PUR)
Jacarra Gwenisha WINCHESTER (USA)
Amy Ann FEARNSIDE (USA)
57kg
Giullia RODRIGUES PENALBER DE OLIVEIRA (BRA)
Linda MORAIS (CAN)
Lianna de la Caridad MONTERO HERRERA (CUB)
Lissette Alexandra ANTES CASTILLO (ECU)
Alma Jane VALENCIA ESCOTO (MEX)
Nes Marie RODRIGUEZ TIRADO (PUR)
Helen Louise MAROULIS (USA)
Betzabeth Rebeca SARCO COLMENAREZ (VEN)
62kg
Lais NUNES DE OLIVEIRA (BRA)
Michelle Christina FAZZARI (CAN)
Jackeline RENTERIA CASTILLO (COL)
Yessica Coraima OVIEDO PEREZ (DOM)
Alejandra ROMERO BONILLA (MEX)
Kayla Colleen Kiyoko MIRACLE (USA)
Nathaly Josefina GRIMAN HERRERA (VEN)
68kg
Luz Clara VAZQUEZ (ARG)
Dailane GOMES DOS REIS (BRA)
Danielle Suzanne LAPPAGE (CAN)
Tatiana RENTERIA RENTERIA (COL)
Yudari SANCHEZ RODRIGUEZ (CUB)
Leonela Aleyda AYOVI PARRAGA (ECU)
Virginia Jaqueline FERNANDEZ SALAZAR (MEX)
Yanet Ursula SOVERO NINO (PER)
Maria Jose ACOSTA ACOSTA (VEN)
76kg
Aline DA SILVA FERREIRA (BRA)
Erica Elizabeth WIEBE (CAN)
Andrea Carolina OLAYA GUTIERREZ (COL)
Milaimys de la Caridad MARIN POTRILLE (CUB)
Genesis Rosangela REASCO VALDEZ (ECU)
Gabriela Renata CANALES HERRERA (MEX)
Andrimar Daniela LAZARO DIAZ (VEN)
Subscribe to our newsletter
Receive the latest news updates, tournaments, programs, services and discounts.
Receive the latest updates from Wrestling Canada Lutte.